Better Working World Data Challenge 2021: forest fires
Participants will need to develop an automated fire detection and prediction model using NASA aerial and satellite images to address the global threat of fires.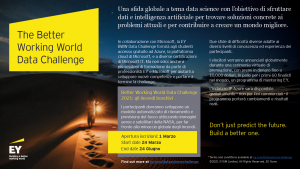 Winners will be announced globally at a virtual awards ceremony, with cash prizes of up to $ 10,000.
Don't just predict the future. Build a better one.
Application open: 1 March 2021
Start date 24 March 2021
End date 24 June 2021
Find out more at ey.com/datasciencechallenge